Quality guarantee
Your patients deserve the best. We source our products from reputable manufacturers that provide the highest quality, safe and reliable acupuncture needles. We provide a menu of options to cater for your needs and budget. All acupuncture needles in our product range (summarised below) have been selected for their high level of manufacture at affordable prices.
Choose reliable equipment that comes with the [email protected] quality guarantee.

ACUREA needles are made in South Korea by one of Korea's leading medical manufacturing companies. The quality is one of the best you will come across in the UK. The needles are gamma ray sterilised, and packed to reduced waste so ideal for the environmentally conscious!

Aculine copper wire wound loop handle needles are manufactured to the same high quality standard as our other needle brands. Pyrogen free, consistently sharp needle tips make them the highest quality needle in its category.
ACULUX needles offer both Japanese style acupuncture handles. A light alloy pipe handle and a plastic handle with both needle shafts using the same surgical stainless steel. The needle shafts are coated to provide a better patient experience. These needles have been developed to bring a level of quality combined with a competitive price.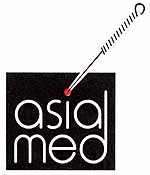 State of the art needles from Germany. As the designer and manufacturer, Asiamed can guarantee that each and every needle produced has been subjected to the most stringent quality control procedures. Asiamed needles are engineered with extreme precision. Each needle tip is machine ground and photographed by a computer. The photograph is then matched to predefined specifications and is then either accepted or rejected. The result is 100% needle tip conformity for smooth, painless insertion.
A range of speciality needles which includes Hand, Detox, Seven Star, Plum Blossom and Bleeding needles.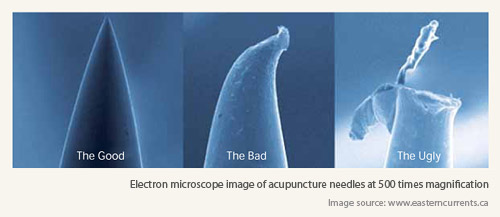 "Aren't all acupuncture needles all the same?"...
There has been a rapid growth and expansion of traditional Chinese medicine in primary health care. Concurrently, we have seen a plethora of new products coming on to the market. With so many to choose from, it's a minefield for practitioners to navigate their way through - and aren't all acupuncture needles the same?
The answer is 'NO' – You get what you pay for. Acupuncture needles are priced according to their standard of production and manufacturing. All acupuncture needles meet the agreed minimal requirements meaning that they are sterile in their packaging. However, inferior brand needles may have damaged or off-centre tips and high levels of particulate matter on the needle shaft, not visible to the naked eye. This may increase the risk of patient discomfort, pain, bleeding and possible infection.
Quality, sharpness and ease of insertion vary greatly and depend on the:
type and quality of materials used
sharpening methods
methods of sterilisation
cleanliness of packaging rooms and handling
quality control standards at each level of manufacturing
These factors combined will determine the needle quality and ultimately your patient's experience.
An acupuncture needle is a powerful tool. Choose one you can rely on, from a supplier you can trust. [email protected] provide you with high quality, safe and reliable acupuncture needles, at great prices.